Gala Benefit Dinner- 375 Years of Stamford Justice: Honoring Your Honor
September 27 @ 6:00 pm

-

9:30 pm
Originally scheduled for April 6th, our annual Stamford History Center Benefit has been moved to The Waters Edge at Giovanni's on September 27th.  Please join us!
This year, the theme is "375 Years of Stamford Justice:  Honoring Your Honor."  Keynote Speaker Timothy Fisher will discuss three centuries of law, government and the courts in Stamford.  Mr. Fisher is the Dean of the University of Connecticut School of Law, as well as a Professor of Law at the school.
As part of highlighting Stamford's role in Connecticut's legal history, the History Center will be recognizing the accomplishments of the Honorable Andrew McDonald and the Honorable Gerald M. Fox, Jr.  The Honorable Frank H. D'Andrea, Jr., a former Stamford Superior Court Judge, will be honored posthumously.  The honorees will be introduced, respectively, by State of Connecticut Governor Dannel Malloy, Stamford Probate Judge Gerald Fox III, and Senior Partner Richard A. Silver of Silver Golub & Teitell LLP.  Stamford Mayor David Martin will also participate in the night's festivities.
375 Years of Stamford Justice includes a cocktail hour and a full dinner.  There will be an exhibit about Stamford's courts on view.  Tickets are $125 per person.  Tables may be purchased at a variety of package levels.  If you have already purchased a table or tickets, please email info@stamfordhistory.org to let Pam Coleman (info@stamfordhistory.org) know if your original guest list remains the same.  It would also be helpful to have chicken/fish/vegetarian preferences communicated.  Reservations must be confirmed by September 6th.  New tickets can be purchased now!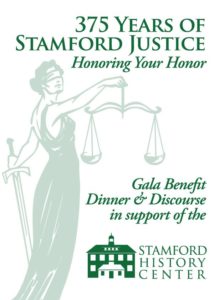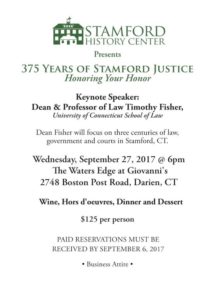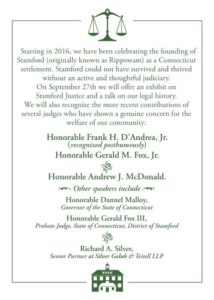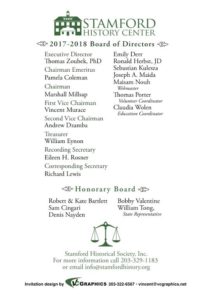 If purchasing an entire table please fill out the reply form and send us a check.