The following is the first of two stories about a Stamford Historical Society's archaeological dig at the Hoyt-Barnum House, courtesy The Advocate:
August 13, 2002
Down and dirty: Archaeological dig unearths artifacts from downtown's pasts
By Alison Damast
Advocate Staff Writer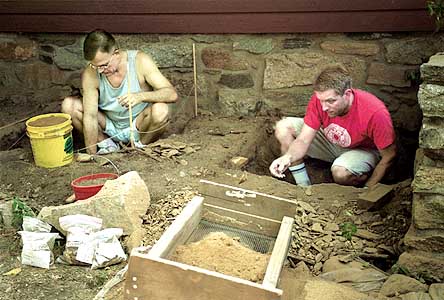 Tom Zoubek, right, director of the Stamford Historical Society, and volunteer Brook Calswell look for artifacts yesterday.
(Allison Berken/for The Advocate)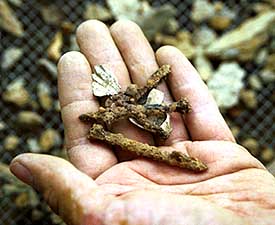 Zoubek holds some of the artifacts, including nails and shells found yesterday on the site of the Hoyt Barnum House where he is conducting an archaeological dig.
(Dru Nadler/Staff photo)
Oyster shells, pig molars and hand-forged nails were unearthed yesterday during an archeological dig at the more than 300-year-old Hoyt Barnum House in downtown Stamford.
The three-day volunteer dig was led by Stamford Historical Society Director Tom Zoubek, who holds a doctorate degree in archeology from Yale and is the first professional dig of the site. The 1699 house is a national historic landmark owned by the Stamford Historical Society.
Samuel Hoyt, a blacksmith and farmer who died in 1738, built the house at 713 Bedford St. It stands on its original foundation.
Using trowels, buckets and a sifting net with quarter-inch holes, Zoubek and four volunteers spent the morning carefully digging in two separate square-meter areas outside the kitchen window, where former household occupants once threw their trash.
"This is a good opportunity for people who have always watched the Discovery Channel and wondered what it's been like to be on a dig," Zoubek said, as he picked out shells and shards of glass from the sifting net, placing them in a small zip-lock bag. "You don't have to go to some romantic location just to get dirty."
Getting dirty on a hot summer morning was a welcome change for Al Recchia, 41, an accountant from Milford.
"This is so far removed from my life of accounting and numbers," Recchia said, crouched in the shallow hole and wearing, instead of his customary work attire, a tie-dyed T-shirt and dusty khaki shorts. "I've always wanted to have the experience. I dragged a friend of mine along and said, 'Let's dig. We'll find something cool.'"
As the morning progressed, the volunteers found shards of pottery, glass, hardware, small bones and shells.
Zoubek estimated that 90 percent of the artifacts they found were shells and bones.
"Seafood was the poor man's diet a century ago," Zoubek said, explaining that people in Stamford used to go clamming and digging for shellfish at the beach.
The findings of the dig were limited mostly to small items because the historical society did an amateur dig of the same area in the 1960s.
The items collected from that dig, mainly pottery and larger objects, are in storage at the historical society.
Zoubek plans to analyze the artifacts this fall with high school students at King & Low-Heywood Thomas School, where he teaches an elective in archeology.
He hopes the dig, which will continue tomorrow and Thursday, is the beginning of many more similar undertakings by the Stamford Historical Society on the grounds of the Hoyt Barnum House and other Stamford sites, such as Cove Island Park. The work will give residents an unprecedented opportunity to learn how people in Stamford lived during colonial times, said Julian Reitman, 76, a longtime member of the historical society and a dig volunteer.
"How many places in Stamford have actually been inhabited and essentially left alone for 300 years?" asked Reitman, who brought his 12-year-old grandson, Ethan Chaleff, to help with the dig. "We just don't know very much about how people used to live in Stamford."
Copyright © 2002, The Advocate
Reprinted with permission
Second article on the subject, August 17, 2002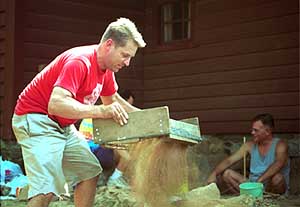 Tom Zoubek shakes things up yesterday with a sifting net during the archaeological dig. Zoubek estimates that 90 percent of the artifacts they found were shells and bones. 'Seafood was the poor man's diet a century ago,' he said.
(Allison Berken/for The Advocate)