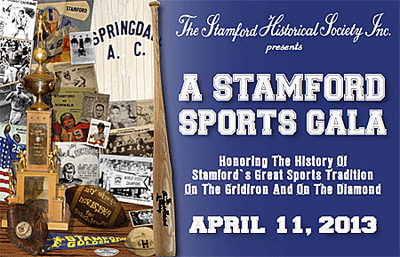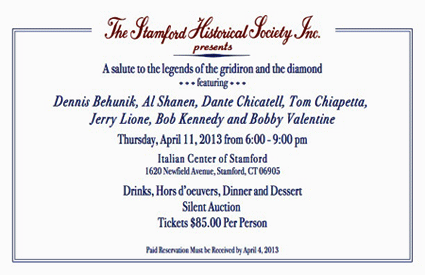 Response Card (PDF) – please print and mail to:
1508 High Ridge Rd., Stamford, CT 06903

We are accepting responses through the morning of April 9th. Put your card and check in the mail or call our office number 203- 329-1183 any time for more information.
CURRENT EXHIBIT
Forging a Community: Stamford on the Gridiron and on the Diamond 1860-1975
(open Thursday - Saturday, 11 - 4 pm)
STAMFORD HIGH SCHOOL BASEBALL
STAMFORD HIGH SCHOOL FOOTBALL
STAMFORD EARLIEST BASEBALL RECORD C
BIOGRAPHIES OF NOTABLES
Ongoing
New from our archives
Other News

The Shop Downstairs and the Historical Society Board of Directors are sponsoring a Tag Sale on May 4th and 5th.
"PIONEER" has moved to EMAIL!
Be sure to contact the office at administrator@stamfordhistory.orgwith your current e-mail address, so that you don't miss an issue of the newsletter.
The 2012 Virginia T. Davis, Stamford Historical Society Distinguished Service Award went to Dan Burke. Details to follow. Our congratulations!