The Hoyt Barnum House, formerly located at 713 Bedford Street, is representative of the Second American Building Period, post 1675.
The people who built this house were the children or grandchildren of the founders of Stamford. Their tastes and their sense of relation to England were beginning to change and they were becoming more independent. They adopted English architectural styles into a more American mode.
Most of the houses in New England – and in Stamford – were built of wood because it was difficult to make mortar to hold stone together without lime, and lime was in short supply in Stamford. The fireplaces and chimneys were put together with clay and hair, or whatever binder could be found for use with the readily available clay.
The chimney in the Hoyt-Barnum House is made of field stone and mortar with clay, animal hair, and straw.
In building the house, the central chimney was built up to the level of the first floor. Then the house was framed. The framing was done on the ground, the timbers that joined together were marked with matching numerals. To raise the house, a line of men with long poles would push up one side, another line of men would push up the next side. Wooden pins were then used to hold the sides together.
Once the framing was the done the owner (Samuel Hait) finished the structure, probably with the help of family members.
The house is braced frame construction, (post and beam). The foundation is of stone. The large vertical members are called posts, and the horizontal beams lie on them.
The parlor is plastered. The  bedroom is whitewashed and the common room walls are sheathed with wood paneling, thus showing the various finishing techniques incorporated into the house during it's evolution.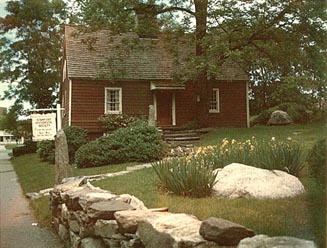 Mayor declared October 2, 2004 "Hoyt Barnum House Day"
Photos from our collection
Work Photos from Roof Restauration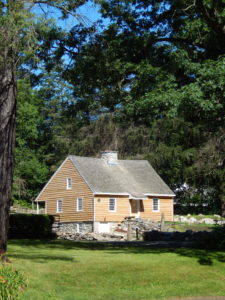 Reprints from The Advocate:
Archaeological dig
Hoyt-Barnum House to get a new roof
| | |
| --- | --- |
| | This pewter pendant, designed by whitesmith Jim Freebairn, who volunteers as a docent at the house, may be purchased at the Society for $5. Approximately 1 3/8″ in diameter, it can be used as a pendant or a holiday ornament. |
Photos © Stamford History Center
Some suggested background reading
The Stamford History Center is pleased to recommend selected books.