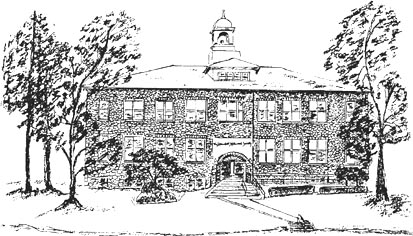 Drawing by Chris Clapes
The town meeting in Stamford on March 3, 1913, authorized $37,000 for a new school in the northern section of town to alleviate the severe overcrowding due to a rapidly-growing population. The Selectmen purchased a site on the corner of North Stamford Avenue (today's High Ridge Road) and Scofieldtown Road for $2,000, from the estate of Herman Burow. It was part of the land farmed by the Dean family since the 1700's until Burow purchased 25 acres and a large house in 1898, when Scofieldtown Road was called "Dean Hill."
The contract for the building, designed by N. E. Emmens of Bank Street, Stamford, was awarded to O'Connor Concrete Construction Company, also of Bank Street. On June 14, 1913, Dr. Watson E. Rice, school committee chairman, laid the cornerstone for the fieldstone building consisting of four large classrooms with tin ceilings on the first floor and a large auditorium on the second.
The school, named in honor of Everett C. Willard, superintendent of schools until his death in 1912, opened on January 5, 1914, with 126 students and four teachers from the one-room schools at North Stamford, Turn-of-River, High Ridge and Roxbury. The teachers were E. Josephine Holly, Mary F. Dann, Margaret Hutchings, and Martha W. Hoyt of Hoyclo Road, who was named principal. When Long Ridge School closed in 1933, the students transferred to Willard School, and as population increased, ground was broken on October 31, 1938, for a new school building on Vine Road, which carried on the Willard name. For two years the Federal Government leased the old building to train workers for industry, but by 1942, the expansion of the school population necessitated the re-opening of the stone building as a school. It was then named for its longtime principal, Martha W. Hoyt. Once again closed as a school in the 1970's, it was used by the Board of Education for office purposes for several years. It remained abandoned until leased by the City of Stamford to the Stamford Historical Society for $1 per year as its headquarters and a museum of Stamford history.
Ann M. Hermann
November 30, 1984
---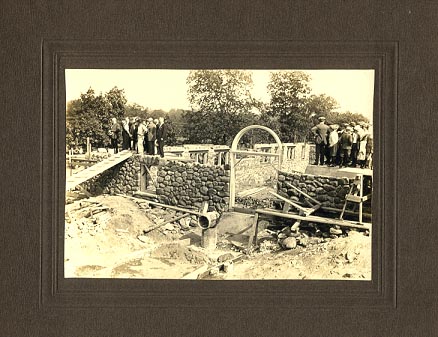 Willard School, 1913.
The foundation is being laid for the new consolidated school on High Ridge Road.
The pupils of High Ridge, North Stamford, Roxbury, and Turn of River one-room schools were transferred here when it opened in 1914.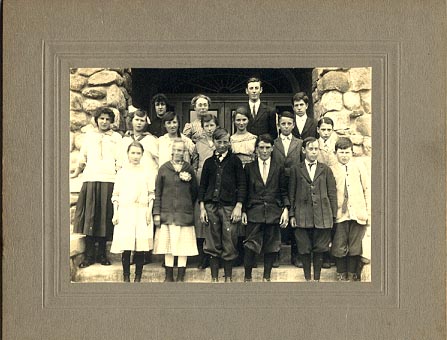 Willard School, c. 1918.
Standing in the third row, third from right is Mrs. Martha Hoyt. She retired as principal in 1933 at the age of 70.
In 1940 the school was renamed Martha Hoyt School in her honor.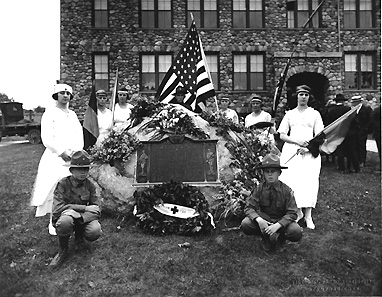 Willard School Memorial, 1919.
Soldiers from North Stamford, which was outside the city limits, were welcomed home at Willard School on August 29, 1919
. Later a bronze plaque was placed on the school's front lawn in memory of those who served in W.W.I. from "Rural Stamford."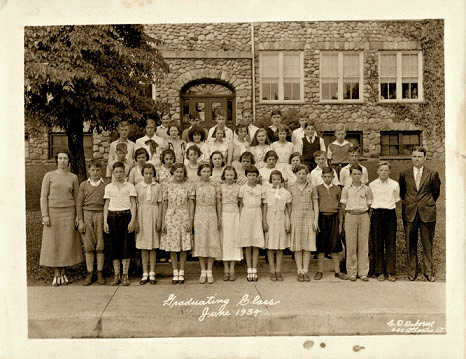 Willard School Graduating Class, June 1934.
Mr. Stuart Patterson, Principal, Miss Helen Tobin, Teacher.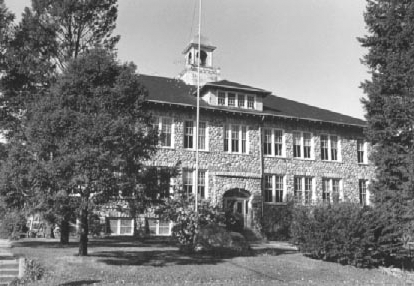 Martha Hoyt School, c. 1984.
At about the time the building became the headquarters of the Stamford Historical society.