The Stamford Historical Society Presents: Gracious Living in Stamford -Late 19th and Early 20th Centuries
Photos and Objects from Our Collection a 2004 Exhibit: online sampling and more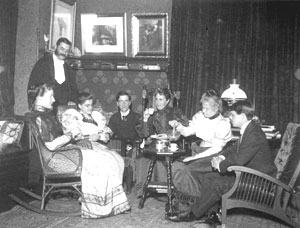 Introduction
We are proud to present a sampling from our extensive photo archives to complement the chair exhibit from the Charlotte D. S. Cruikshank Collection. Homes and mansions, which are catalogued under the category "Dwellings," depict a cross section of Stamford life, via glass plates, stereographs, prints, and postcards, as well as several photo albums. For this exhibit, we have also drawn on images from Picturesque Stamford, the 1892 illustrated publication of a history of Stamford by the Gillespie brothers.
Most of the interior photographs we have are from between 1892 and the very early 20th century, with the exception of the Henri Bendel album, which dates from c. 1930, and a contemporary sales brochure for the Marion Castle. One has to assume it was fashionable to photograph one's home during that time. Katharine Merritt's album with photographs from 1893 an 1894 goes even further: All interior photos contain groups of people in obviously posed settings. (Unfortunately, in this case, there are mostly no titles or names with the photos—of course the owner of the album knew who they were and where they had assembled.) Postcards of residences were also fashionable, as well as popular with the general public.
Many Stamford industrialists and merchants were able to showcase their success during the final decades of the 1800s and the early 1900s by constructing grand homes filled with fine furniture and other objects. Some of the more famous places shown here include those of Schuyler Merritt and Henry Towne, as well as the later ones of Henri Bendel and Frank Marion.
All in all, the majority of the photos and postcards of homes from the area covered in this exhibit are in grand settings—one knew one's worth and wanted to document it. However, research into the owners' lives, often through obituaries which at the time were much more elaborate and florid than today, show them mostly strongly engaged in local affairs and community life.
The online version of this exhibit strives to present a picture of the people who inhabited these homes, rather than going into architectural and furniture styles, which we leave to the experts. Obituaries, the Society's Vertical Files, and publications in our library are the main sources.
Apart from being worthy citizens, two men in this selection stand out in their careers: Schuyler Merritt, long-time congressman and father of the Merritt Parkway, named after him, and Henry R. Towne, co-founder of Yale & Towne Manufacturing Co., who had a national reputation as an engineer. Others show an amazing variety of professional and personal interests, such as Claison Wardwell, a dental surgeon by profession.
Aside from the photo exhibit, the long hallway also showcases additional pieces from the Charlotte D. S. Cruikshank Collection, including a colorful sampling of pearlware teapots and sugar bowls, all of which are decorated with sculptured swans on their lids. Although they date from between 1790 and 1810, china—or more correctly, ceramics—of that kind would have typically been inherited by the people whose homes are shown in the exhibit.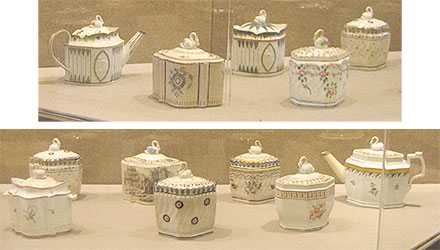 A hidden aspect of the photo exhibit is the physical development of Stamford over the last 100 years. Few of these residences are still standing. Many sections in town where they were located are now densely settled, the most prominent example being Noroton Hill, where Schuyler Merritt and Timothy Porter had large estates. The Clairol plant now stands on the site of what was once the Merritt property.
The Individual Exhibits
Best Seats in the House
Gracious Living in Stamford
Hallway Displays from the Collection
Houses at a glance
• Jas H. Hoyt, Atlantic Street
• Walton Ferguson, Atlantic Street
• Henry R. Towne, Rockland, Atlantic Street
• John A. Brown, Gothic Hall, Broad & Bedford St.
• William H. Judd, Glenbrook Rd.
• Commodore Smith, Linden Lodge, Glenbrook Rd.
• Phillips Estate, Glenbrook Rd.
• Wardwells, Elm Street
• Mrs. George A. Hoyt, Main St. at Greyrock Place
• Timothy Porter, Blachley Lodge, Noroton Hill
• Katharine Merritt's Photo Album, Noroton Hill
• Wilbur Lewis, Prospect St., Crescent St.
• Mrs. Edward G. Smith, Richmond Hill
• Alfred W. Dater, Strawberry Hill
• D. Henry P. Geib, Strawberry Hill
• Frank Phelps, Strawberry Hill
• James I. Raymond, Strawberry Hill (Hackett Circle)
• F. Weston, Strawberry Hill
• Jarvis Weed, Weed Ave.
• William W. Gillespie, Washington Ave.
• Charles E. Smith, Washington Ave.
• Marion Castle, Shippan Point
• Captain Waite, Wallack's Point
• Benjamin M. Ayers, Long Ridge Village
• Henry Bendel Album, Laurel Lake Lodge
• Paul Barrows, Mayapple, High Ridge Rd.
• Various Postcards
The Photos
The largest display is of a recently donated photo album of Henri Bendel's "Laurel Lake Lodge" at Scofieldtown and High Ridge Roads in North Stamford —now the Stamford Museum and Nature Center—and reproductions of its 23 photos, down to the kitchen and the butler's pantry.
Another album, which belonged to Katharine Merritt—Schuyler Merritt's daughter—allows us to show interior photos of the Merritt home on Noroton Hill and some family photos from 1893 & 1894. Also on Noroton Hill stood "Blachley Lodge," owned by Timothy Porter.
Downtown Stamford is represented by houses on Atlantic Street, Main Street, Broad Street—George Waring's "Gothic Hall"—Washington Street, and Richmond Hill. From Glenbrook, we have the residence of Commodore Smith, "Linden Lodge"; homes of William Judd and Wilbur Lewis— including the latter's early 1900s automobiles and family photos; and the Phillips family's "Denehurst" estate, again with family pictures.
There are various homes from Strawberry Hill, including the still standing Raymond House, now a multi-family home on the later created Hackett Circle. Besides the above Bendel estate, North Stamford is represented by "Mayapple," Anne Ramsey's former family home on Mayapple Farm. We are extremely grateful to Mrs. Ramsey for the loan of the wonderful color photos of the mansion and a selection of her childhood pictures. Of Long Ridge Village, we have the Scofield-Cook House at Old Long Ridge and Erskine Roads.
Shippan Point and the Cove are represented through various postcards; photos of Jarvis Weed's home on Weed Avenue which lasted until 1997; and a large framed color photo and a sales brochure with interior images of the Marion Castle, which were recently donated to us by Mr. J. A. Kobrin, a former owner.
Lastly, there is the Wardwell family compound on Elm Street: The Isaac Wardwell home—now the rectory of St. Mary's, recently restored to its old look—and the homes of his two sons, Drs. Claison Wardwell, and across the street, Franklin Wardwell. Of Franklin's house we are extremely pleased to be able to show a number of interior views from 1900, some of them displaying a variety of chairs, a fitting complement to our chair exhibit. There is also a selection of the Wardwells' family photos. All these photos and more on the Wardwells can be viewed online at our January 2003 Photo Selection of the Month.
An 1883 map of Stamford gets the visitor oriented.
Irene Hahn