February 25, 2006
The Stamford Historical Society has received a 2006 Award of Merit from the Connecticut League of History Organizations (CLHO) for its current exhibition project, Portrait of a Family: The Legacy of the Davenports.
The exhibit, which runs through March 11, chronicles the history of Stamford through the lens of one of its most important and influential families, the Davenports. Currently, the League presents awards in four categories: projects, publications, educational programs and individual comprehensive works. The awards program recognizes outstanding institutional and individual contributions that promote professional standards and enhance knowledge and understanding of Connecticut history.
The awards are evaluated by a panel of jurors representing different areas of expertise and size institutions, including volunteer and professional organizations. The Davenport exhibit received high marks for its historical accuracy, documentation, clarity, and specific goals.
The Stamford Historical Society, founded in 1901, is an educational and research institution, whose primary functions are to collect, preserve, conserve, interpret and exhibit materials relating to Stamford, Connecticut and New England.
The society is dedicated to community enrichment through presentation of exhibits, displays, special events, demonstrations and participatory program that have as their objective a population enlightened by an understanding of the past and committed to an objective for the future.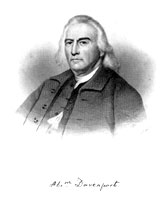 Portrait of a Family: The Legacy of the Davenports Online Exhibit