March 6, 2006
Connecticut Humanities Council Awards Grant To Support Stamford Historical Society Program
The Stamford Historical Society announced today that it has received a $4,402 grant from the Connecticut Humanities Council. The money will be used to convert the society-based Immigrants' Stamford exhibit into portable presentations.
"This offers a wonderful opportunity for the society to engage audiences in new and creative ways," said Dr. Thomas Zoubek, society executive director. "We appreciate this show of support from the Connecticut Humanities Council and we recognize the effect that this support will have as we bring the society beyond our headquarters."
The grant enables the society to make available its first traveling exhibit, The Irish Community in Stamford, focusing on the city's first major immigrants. The exhibit will be on view March 13-24, at the Stamford Government Center, Washington Boulevard, Front Lobby. The grant enables the society to recast other portions of the Immigrants' Stamford exhibition into a portable format.
"We are in the process of revising and remounting other important immigrant groups. Research on more recent immigration waves within Stamford will be ongoing," said Zoubek.
The Government Center exhibit features important Irish-Americans of Stamford from the late 1840s into the 20th Century. It maps the history of St. Johns Roman Catholic Church, the development of Irish construction firms, and the Irish entry into politics and civil service.
For information about the exhibit and its availability, contact the society at 329-1183 or history@stamfordhistory.org.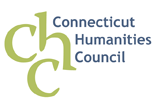 The Connecticut Humanities Council (CHC), a statewide non-profit institution, located in Middletown, CT, focuses its work on two time-honored traditions in the humanities—reflective reading of literature and exploration of history. CHC reading programs like Motheread/Fatheread and Book Voyages help parents and children strengthen family bonds by reading together while encouraging children to become lifelong, avid readers on their own. CHC heritage programs, often conducted in partnership with state and regional cultural organizations, fund exhibits, walking tours, cultural festivals, and community humanities projects that explore Connecticut's diverse local heritage, as well as American and world history. Each year, the CHC produces and funds nearly $2 million in cultural programming that enriches the lives of state residents and visitors statewide.
For more information on the Connecticut Humanities Council and its programs, please visit www.ctheritage.org or call .