June 26, 2006
Rosemary Vacca Receives Stamford Historical Society Award
Rosemary A. Vacca has received the Stamford Historical Society's 2006 Virginia T. Davis Award for outstanding volunteer service. The award was presented during the society's annual meeting, held June 19 at society headquarters, located at 1508 High Ridge Road in Stamford. A Stamford native, Vacca graduated from Stamford High School and Russell Sage College, later teaching in elementary schools, in Rye, NY.
In presenting the award, Ron Marcus, society librarian, traced Vacca's exceptional volunteer commitment that began in1971. During 1976, the nation's bicentennial year, "Rosemary volunteered at the society in earnest," said Marcus. Stamford has also benefited from Vacca's past assistance in capturing "unending, rapid changes within many of our city's neighborhoods," according to Marcus. Through Vacca's efforts, "numerous buildings that subsequently happened to be either drastically altered or demolished were recorded on film," Marcus stated.
As a Russell Sage alumna, Vacca was instrumental in obtaining information on Elizabeth Davenport Spence, also a Russell Sage graduate. Spence's donations of Davenport family memorabilia enabled the society to produce last year's award-winning exhibit, Portrait of a Family: Stamford through the Legacy of the Davenports. Vacca continues as manager of the society's Shop Downstairs and also contributed her time to the development of the society's Immigrant's Stamford: Along Pacific Street exhibit, currently undergoing conversion to a portable, "traveling" format.
Founded in 1901, the Stamford Historical Society is dedicated to community enrichment through presentation of exhibits, displays, special events, demonstrations and participatory program that have as their objective a population enlightened by an understanding of the past and committed to an objective for the future.
To inquire about membership or for more information about society programs, research library operating hours, or the current exhibit: Pride and Patriotism: Stamford's Role in World War II, contact the society at 329-1183.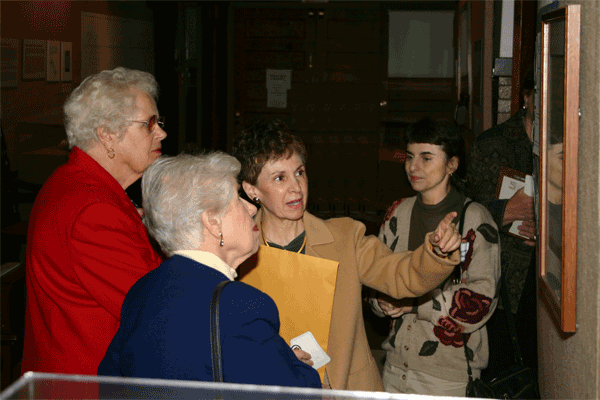 Caption: Rosemary Vacca (center) hosts a Russell Sage College alumnae chapter tour
of the historical society's Davenport family exhibit in October 2005. (Contributed photo)