The Stamford Historical Society
Stamford, Connecticut – A Bibliography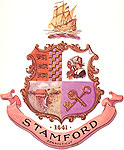 An annotated, indexed compilation of books, pamphlets,special editions of newspapers, atlas, articles in periodicals, and motion picture film, containing information relating to the history of Stamford, Connecticut
by Ronald Marcus
The Stamford Historical Society, Inc.
Stamford, Connecticut
ISBN: 1-886054-13-4
© 2012 The Stamford Historical Society, Inc.

All rights reserved. Published by the Stamford Historical Society, Inc., 1508 High Ridge Road, Stamford, Connecticut 06903. No part of this publication may be reproduced, stored in a retrieval system, or transmitted in any form or by any means, electronic, mechanical, photocopying, recording, or otherwise, without the prior written permission of the publisher. Grateful acknowledgement is made to the authors and publishers herein cited, for permission to reprint previously published material. Full credit is given at the end of each copyrighted selection.
The device on title page is the "coat of arms of the Town of Stamford." It was designed by the Stamford Historical Society, Inc. and assigned to the Town of Stamford in 1916 to be used as a Seal. There is an excellent line cut of it in The Daily Advocate, May 16, 1914.
---
---
Search Instructions
The Bibliography Items, i.e., books, magazines, pamphlets, movies, etc., are listed alphabetically, and each has an item number assigned.
A | B | C | D | E | F | G | H | I | J | K | L | M | N | O | P | Q | R | S | T | U | V | W | X | Y | Z
Example:

#
Entry
1.
Abraham, Judith F.

First Baptist Church to Friends Meeting House: the evolution of a site

. New Haven, Connecticut: Yale University; 1988; 51 pp., typescript, illus., maps, bibliography, 28 cm.
Notes: Historical archaeology paper.
Location: CtSHi.
Abstract: "Sometimes what is in the present is in the past; sometimes not. In a quiet sector of Stamford that was known as the Bangall District, on a rustic half-acre, is a simple 100 year-old building set within old stone wall boundaries. The old structure with its two front doors looks like a Friends Meeting House. While it is now, it wasn't originally. In fact, the site gives no easily visible evidence of the oldest structure that was on it: the first Baptist church in Stamford. The present structure was a one-room schoolhouse that was moved to the site. This paper will try to recount the changes at the site from 1771 through the present which have been uncovered thus far." Judith F. Abraham, p. 1. (Reproduced with permission of the author.)
The Index consist of an alphabetical list of names and subjects which appear in the body of each bibliography item. These names and subjects are shown with the respective item numbers next to each of them. Clicking on an item number will lead to the item and its description.
A | B | C | D | E | F | G | H | I | J | K | L | M | N | O | P | Q | R | S | T | U | V | W | XYZ
Example: A. E. Bounty Company, (2) [44], [172]
Location means libraries and other institutions where the bibliography items can be found. The Location page lists the geographical location corresponding to each abbreviation.
Example: Location: CtSHi.
---